There is something ethereal and surreal about history. It is found in the notes of songs that ripple through time, eternally reverberating; in the undiscovered building blocks of antecedent societies, suddenly revealed once again; and in the seemingly meaningless trinkets of a former life, now found to be items of fascination.
It is the common thread that connects Pompeii, the Mayan empire, the dynasties of eastern Asia, and the castles of western Europe to the sterling silver flatware, vintage vinyl records, heirloom trunks, and forgotten letterpress pieces found in our American antique shops.
If you listen closely, you can hear the heartbeat of history echoing throughout Middle America. And if you lean in and look a little closer, you'll find yourself peering into the city of Huntington, a small municipality in North-Central Indiana. And if you have a palate for sweet treats and beverages, you'll find yourself in its historic downtown at a craft soda shop, tasting the crisp, sparkle of vintage sodas and the creamy, milkiness of hand-dipped root-beer floats.
Welcome to Antiqology, a token of history harboring craft soda, antiques, and an assortment of hand-made, repurposed, and vintage items.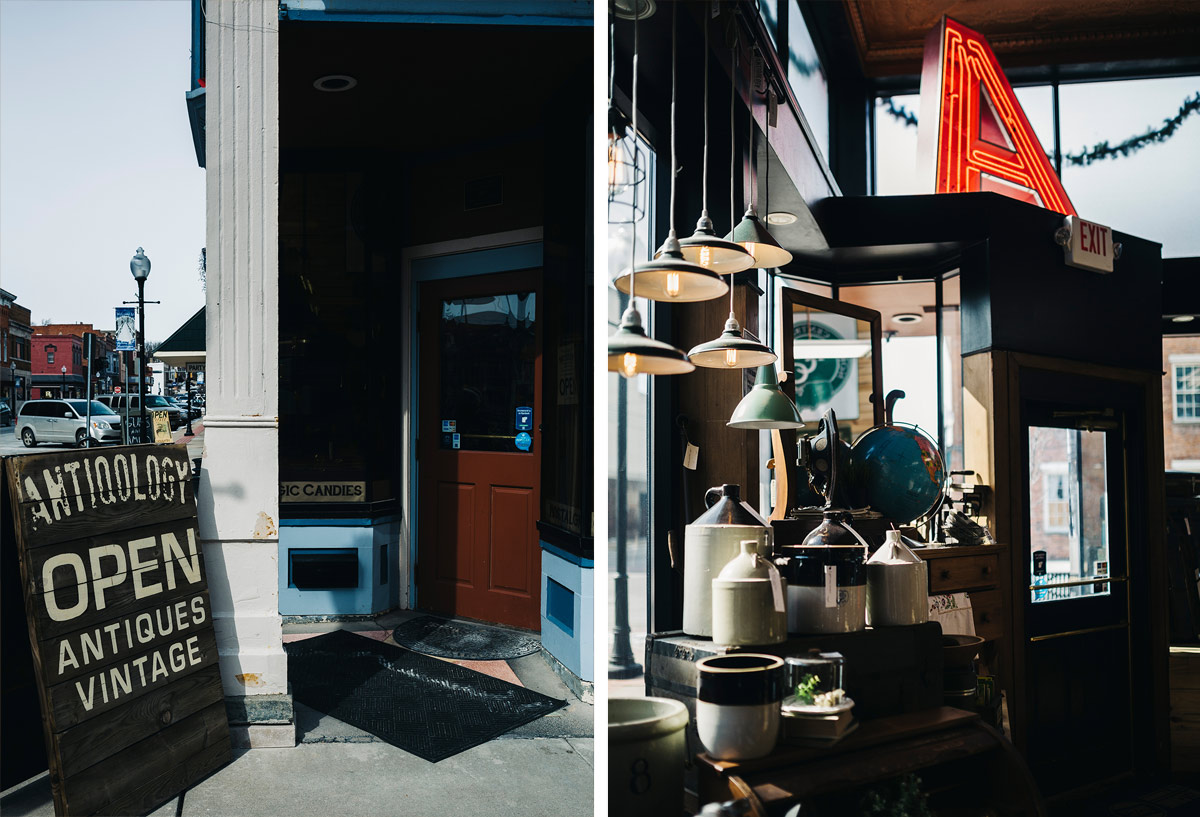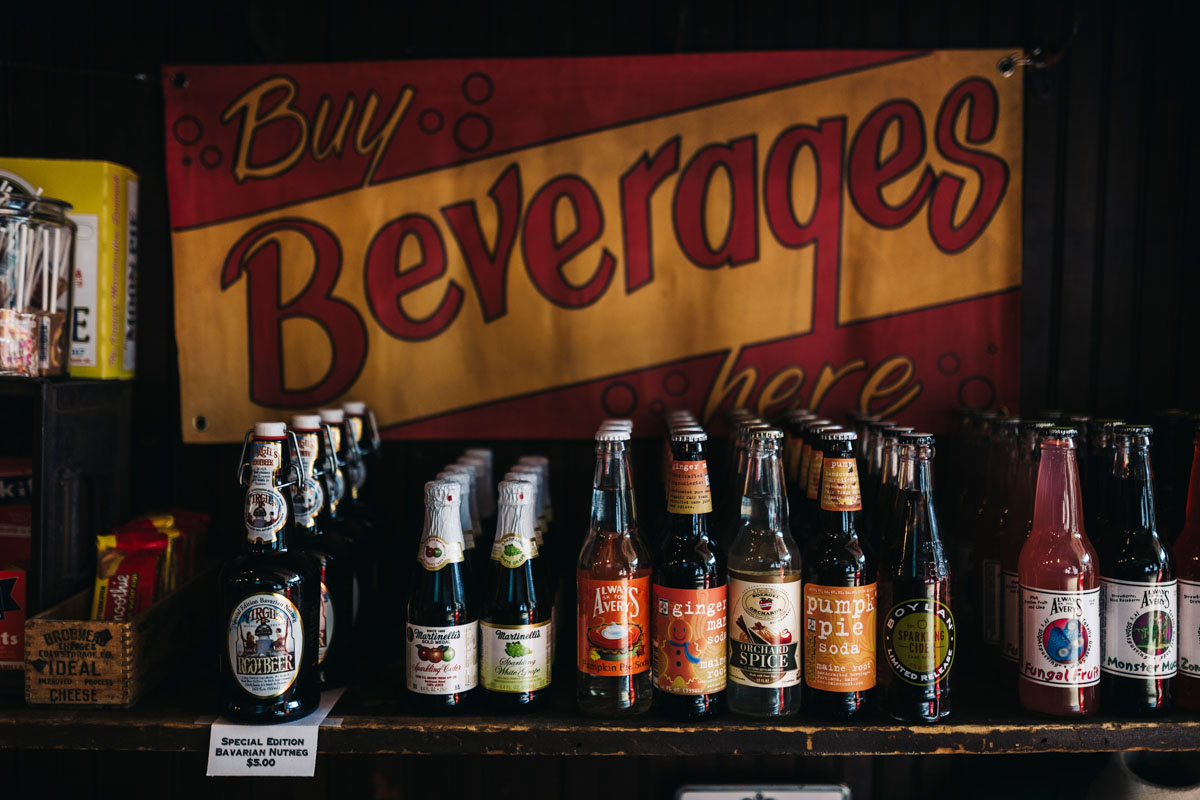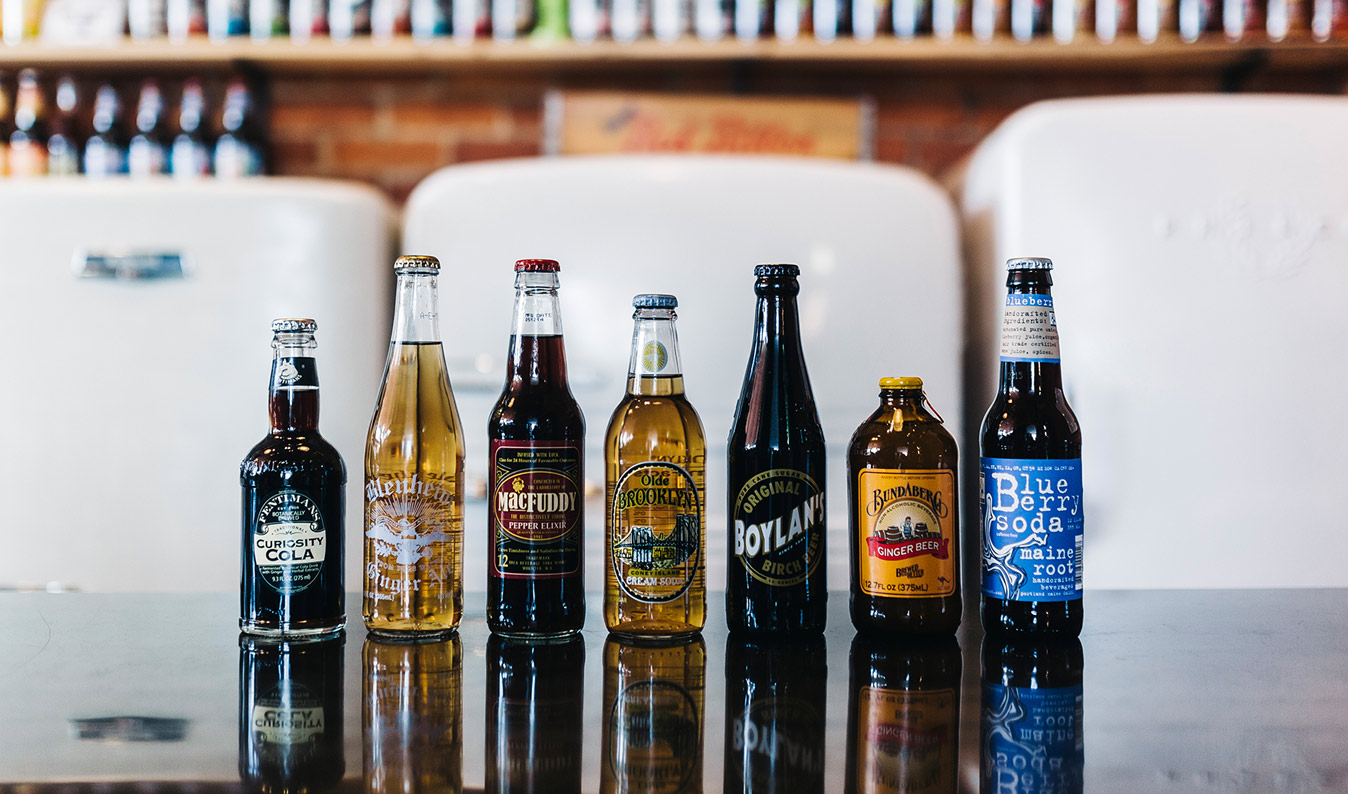 I step through the door situated at the corner of the shop. Around me, the natural light falls through large windows, allowing my eyes to catch some dust dancing lightly about. The shop seems crowded and claustrophobic at first glance with so many products packed tightly together. But as I allow my view to dilate, as eyes do in a new room, I begin to see that everything has been curated and placed intentionally. It's beautifully organized.
I wander through the shop looking this way and that at the history around me, wondering about the stories behind each product. The room is rich with narrative as I see objects pleasantly composed in scenes fitting to different eras.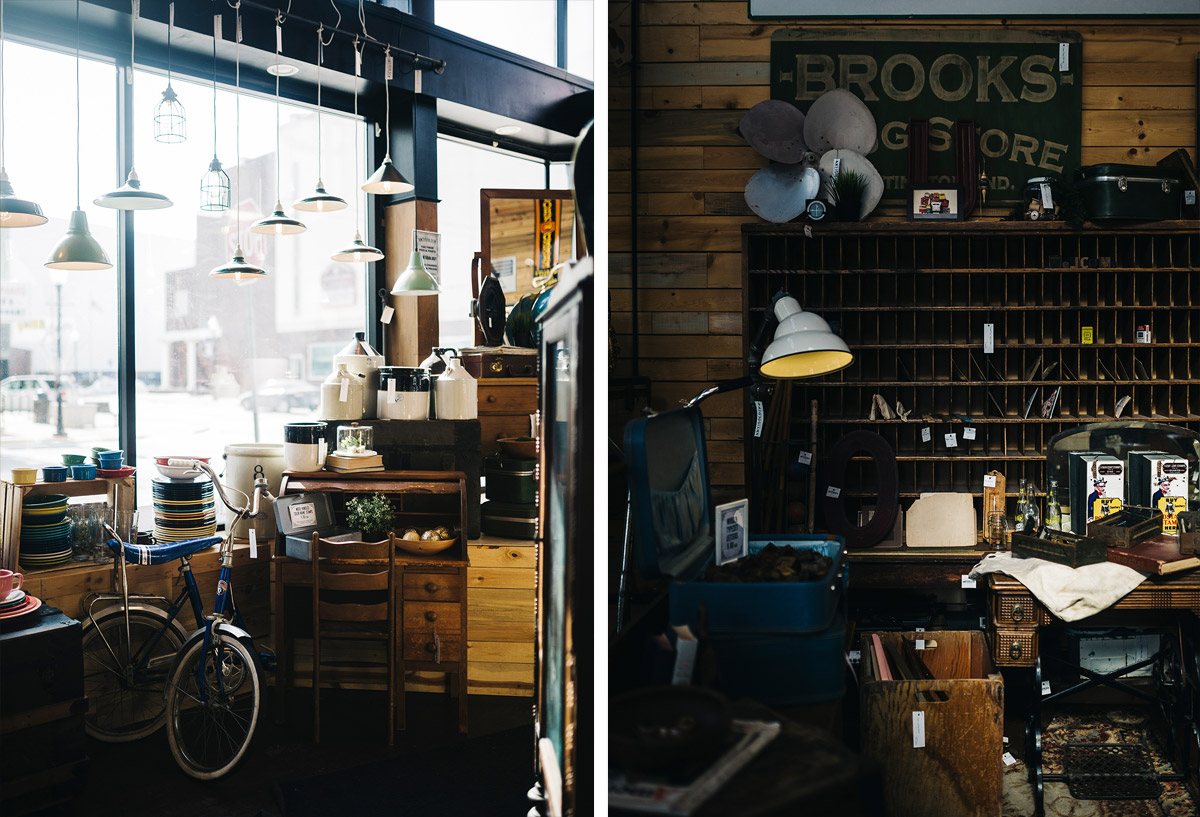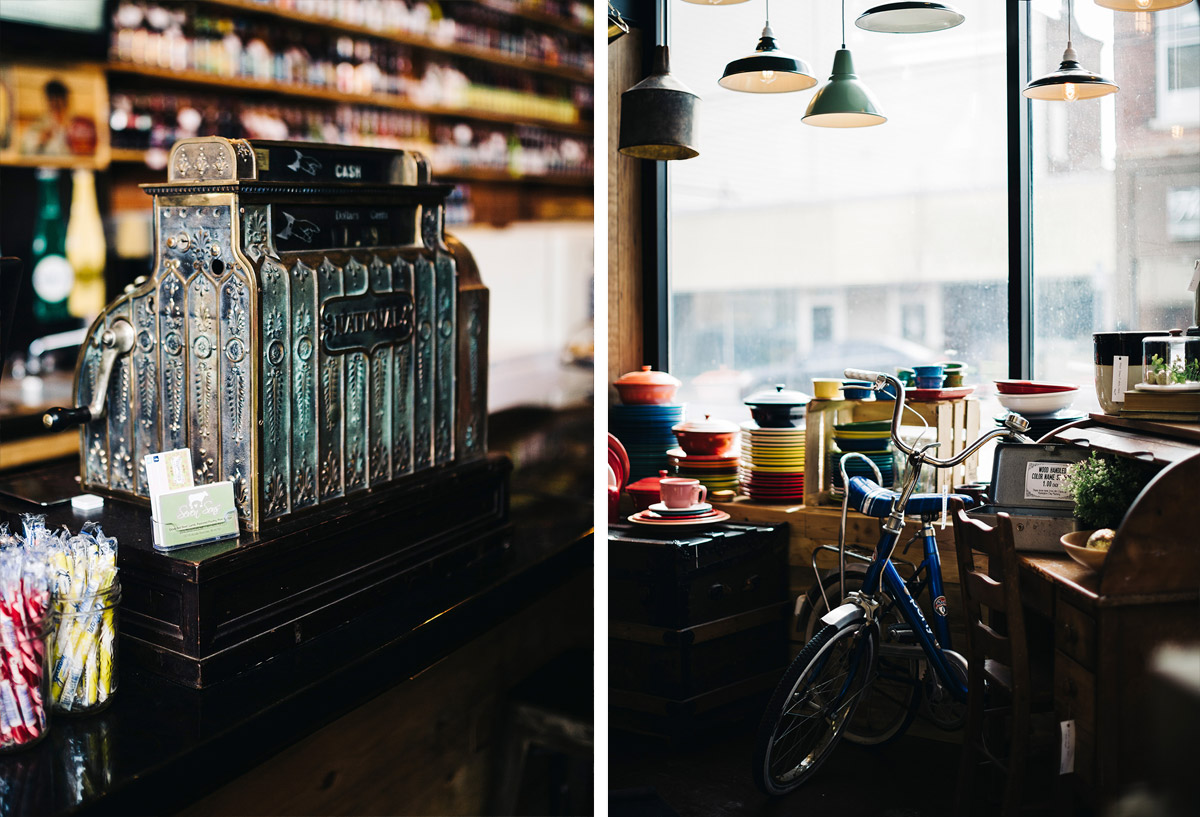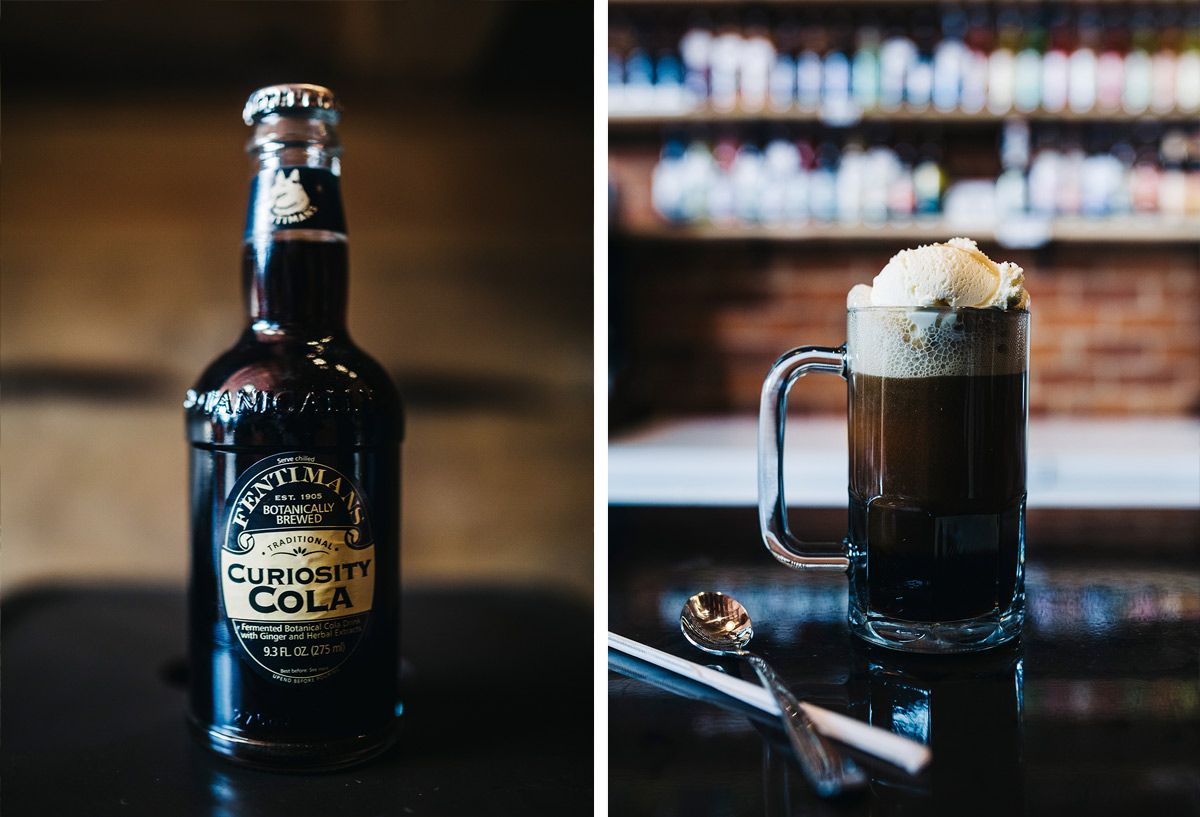 I pause for a moment to sift through a weathered box of letterpress pieces. The small, metal bits feel gritty and dense. As I turn them over, I see that some of the letters still have ink dried on them. Feeling the texture seems to make its historical relevance a little more tangible.
But this is not why I am here. I look up and continue to make my way to the back of the shop.
Arriving at the rear, I'm not disappointed. A long, glossy bar, lined with metal stools, sits below a masterpiece of organized glass bottles. Wooden shelves completely filled with craft sodas line the brick wall from top to bottom. Next to the sodas on the wall are shelves of clear, glass containers filled with colorful vintage candies. An antique register sits on one end of the counter, green with aged copper. Behind the bar are an assortment of white refrigerators and freezers, assumedly filled with sodas and hand-dipped ice creams.
At the bar is co-owner Adam Hanson. After introductions, he begins to tell me the story of Antiqology.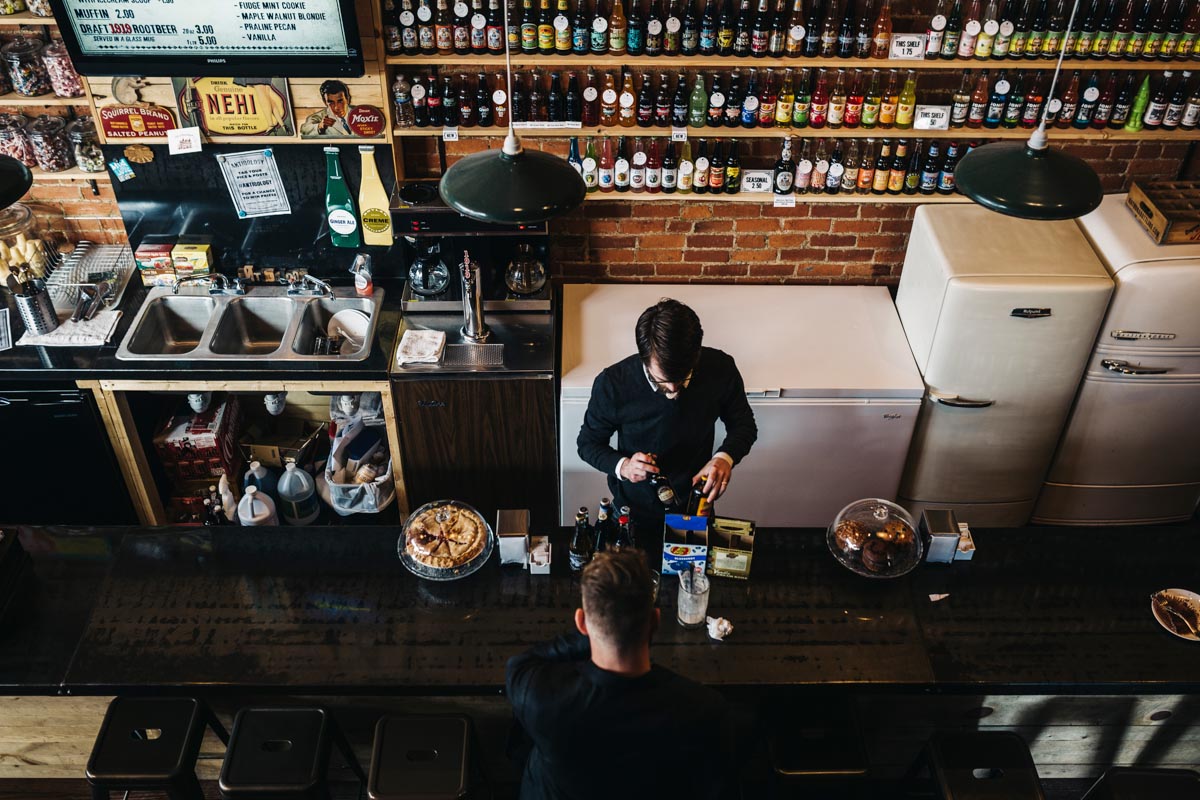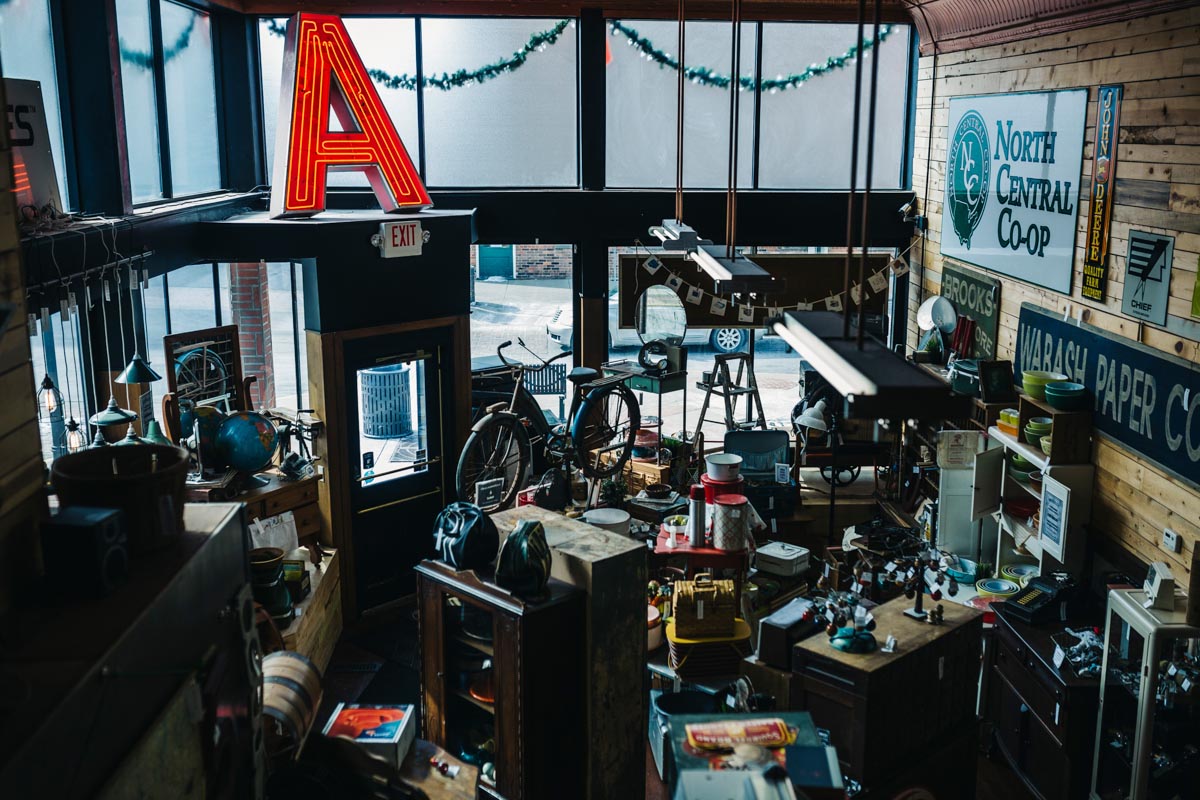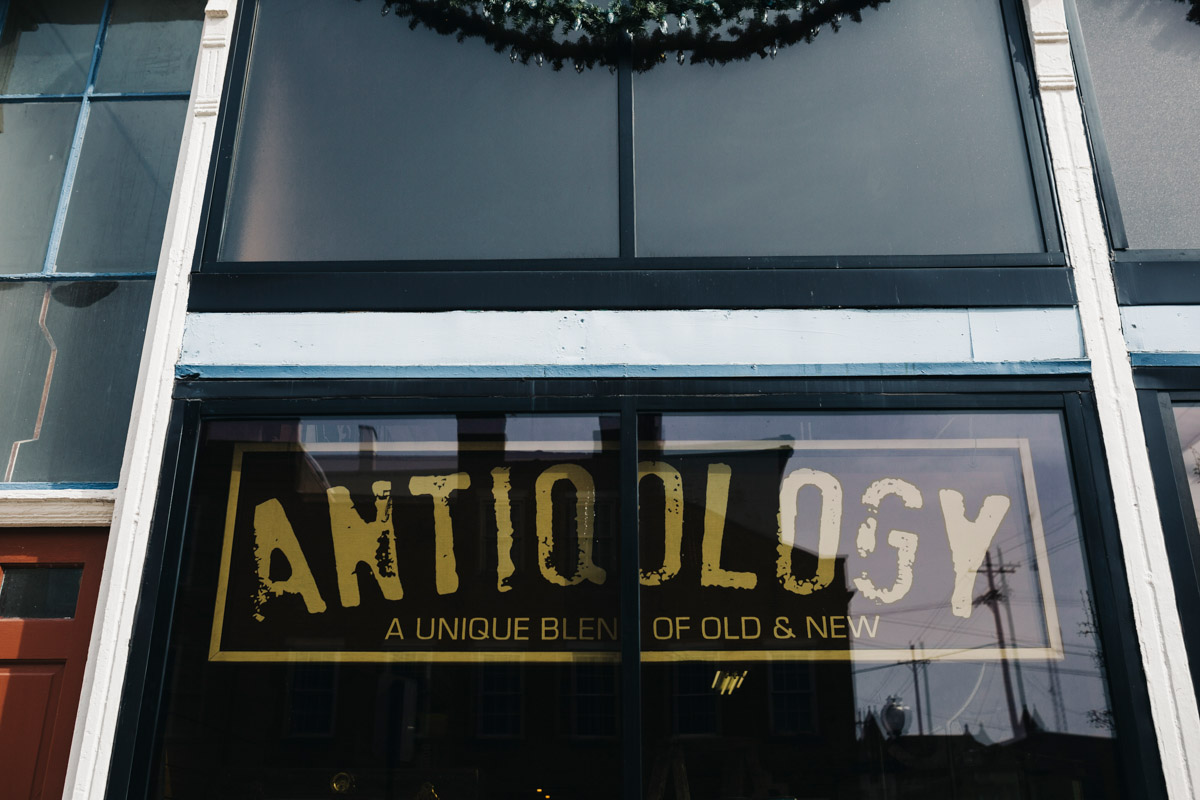 He and his wife Rebecca began this venture as a hobby, simply buying unique items for their home. When they would find something more interesting, they would rotate items out by selling them on social media, to make room. Eventually, they had a porch sale where over five hundred people attended. That was when they realized the potential of what they could do. And so starting with a simple twenty dollar investment, they began Antiqology.
Though they started by selling antiques, they wanted to add some sort of unique flair to the experience. Rebecca wanted to have hand-dipped ice cream. And since Adam is allergic to milk, he wanted to have something he could have as well. He suggested craft sodas.
From that point on, the craft soda portion to the shop has grown exponentially. Within a year's time, Antiqology has come to hold the largest selection of craft sodas east of the Mississippi River and has become a prominent distributor. It turns out—to Adam and Rebecca's surprise—people absolutely love craft sodas.
Sitting at the bar, I look up at the towering wall of soda choices and think back to a time where establishments, like this one, were the early 20th Century's "Third Place." I envision adults milling around me laughing, with men in their fedoras and loose suits, and women in their bobbed hair and flapper dresses. I imagine a young couple in the corner giggling as they share a soda with two straws poking out of their glass mug. I picture children shoving their way through the endless sea of adults in an effort to be the first to buy some saltwater taffy.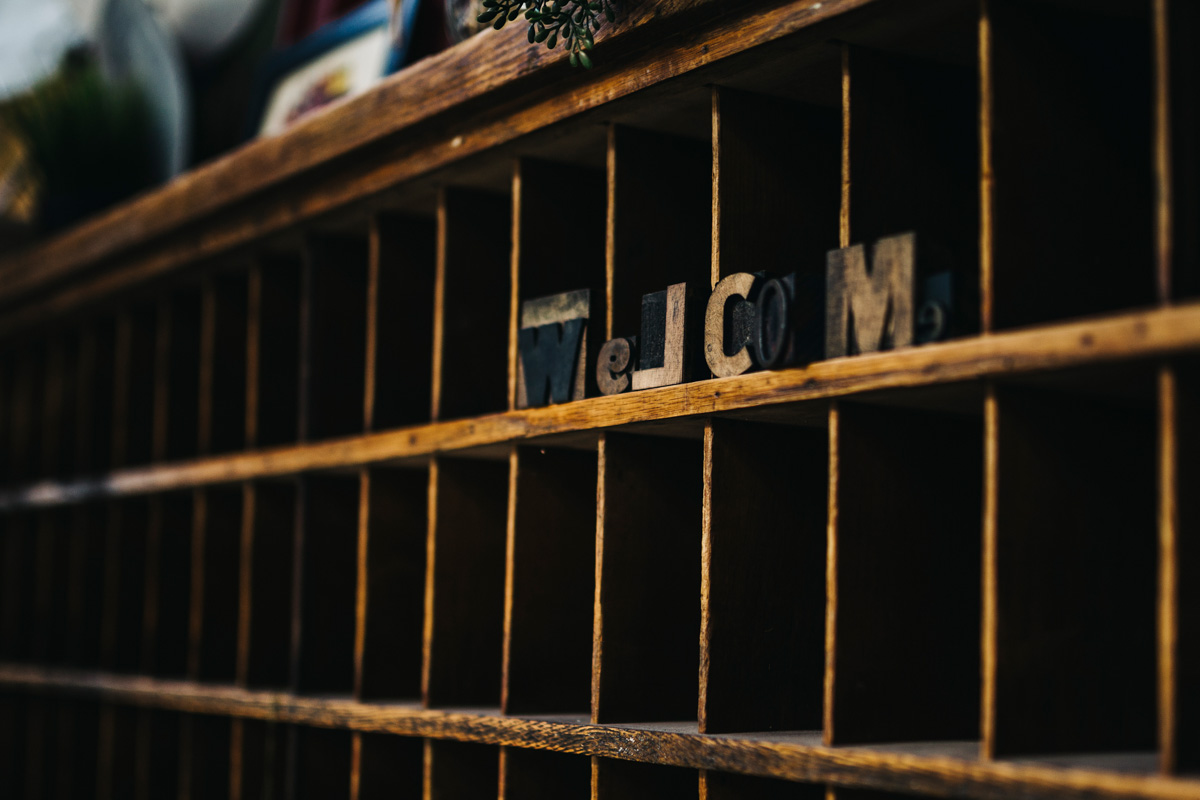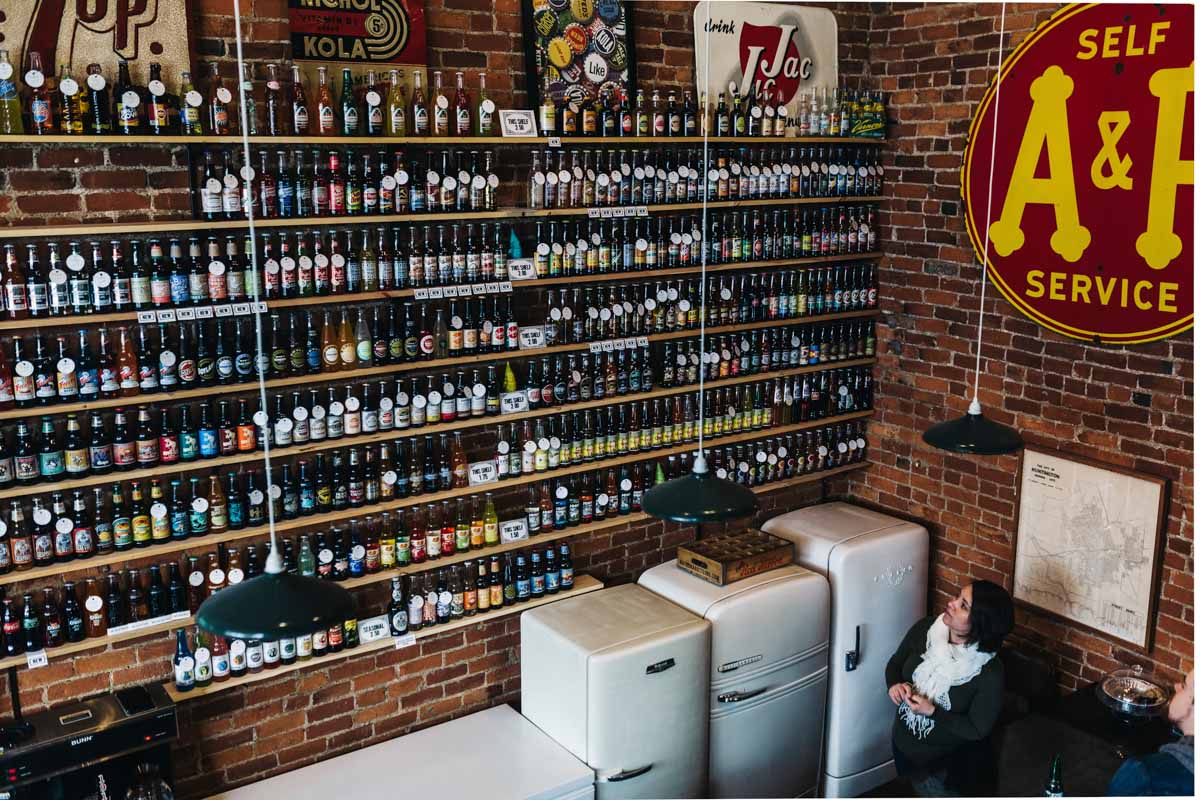 There is something magical about craft sodas, vintage candies, and fountain root-beer floats. They are nostalgic. Sugar and sweets are the stuff of memories and it seems that they are brought to life here.
Adam points to an Old Brooklyn Cream Soda and mentions that he and Rebecca both jokingly believe that "God himself" bottles it. He continues to mention other sodas, telling me the stories behind each of them. He goes into fine detail describing their taste profiles, using similar language to what you might hear from a wine connoisseur. And then, without missing a beat, he goes on to explain the histories behind the bottlers, telling of their beginnings, transitions, and processes.
Upon reaching the subject of bottling, Adam pauses a moment and looks at me pensively before continuing.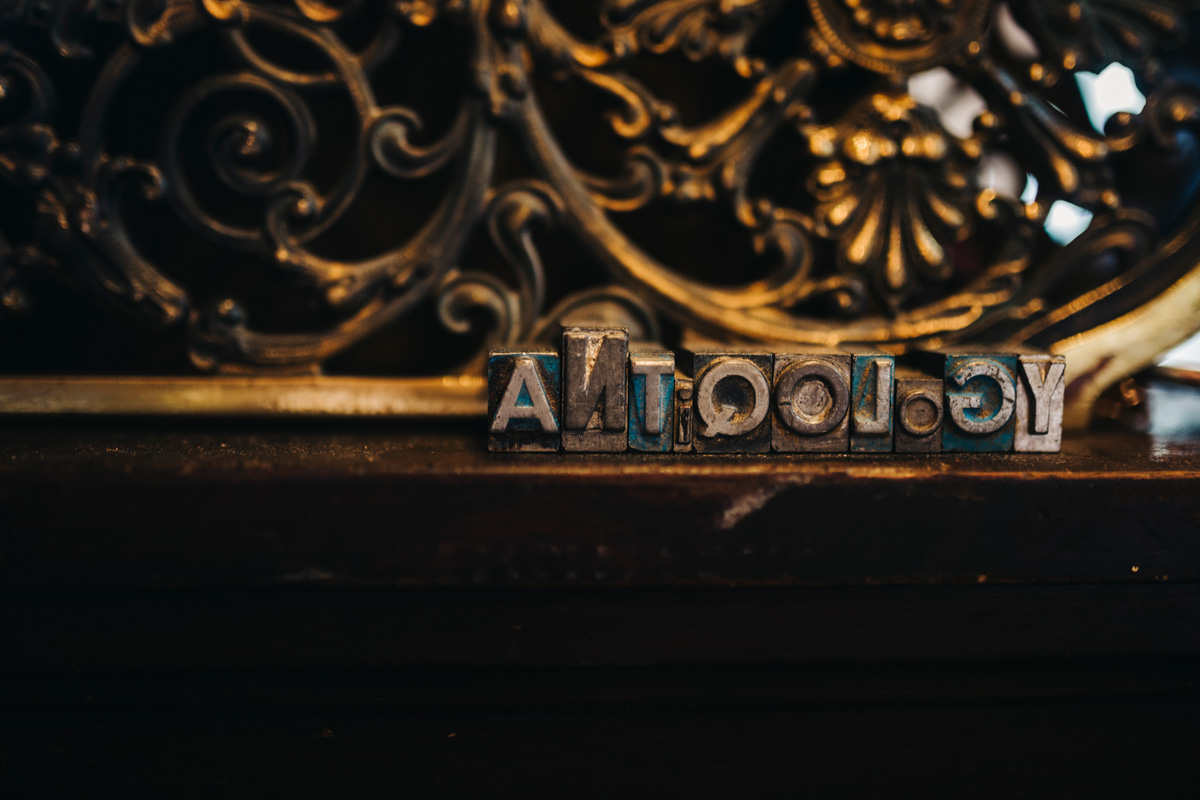 "We haven't completely made this public yet, but we've been working on bottling our own line of craft sodas. Would you like to try some?"
Excitedly, I consent. A few minutes later, Adam places five flavors in front of me. As I try them, he discloses to me in a tone that sounds like that of local folklore, that the city of Huntington, at one point, had its own soda bottling company. Founded in the late 1800s, it had been in operation for almost a hundred years before it closed its doors in the seventies. The name has been sitting dormant ever since as time has passed on, with it being long forgotten.
He pauses, at the crux of his story, and proudly smiles. He and his wife have resurrected that company. They will be continuing the legacy of this local Huntington legend with the launch of this line of craft sodas. The company is called Kolatona Beverages.
I finish the last of their samples, now full of carbonation and completely satisfied. The sodas are delicious and despite the explanation of natural ingredients and processes, I can taste that they are carefully and intentionally well-crafted. These alone would be worth the drive.
It is clear that Adam and Rebecca are doing more than just selling products, sodas, or even ice cream at Antiqology.
They are extending an experience.
They are bringing back to life the history that has sat away in attics and storage rooms for decades. They are curating a setting where persons of all ages can step back in time into the heydey of sugar and sweet. And by breathing the soul back into the legends of the past, they are helping revive an historical city, one bottle at a time.
—
Antiqology
401 N Jefferson St, Huntington, IN 46750 
Published under Profiles on April 10, 2015